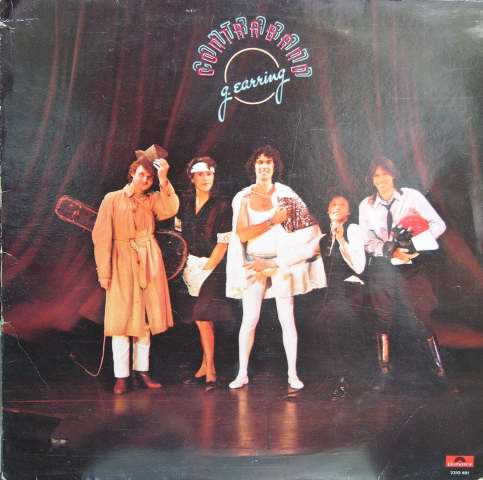 Golden Earring - Contraband

Musicians
George Kooymans - Guitars, Vocals
Barry Hay - Vocals
Rinus Gerritsen - Bass, Keyboards
Eeico Gelling - Guitars, Slide
Cesar Zuiderwijk - Drums

Lyrics

Side 1.
1. Bombay *YouTube
2. Sueleen *YouTube
3. Con Man
Side 2.
1. Mad Love's Coming *YouTube
2. Fightin' Windmills *YouTube
3. Faded Jeans
4. Time's Up



Bombay seems lost in dreams
When the pipes let off steam
In a backroom - somewhere, anywhere in L.A.
Next payday comes - I'll be gone
By boats and planes - it's pre-arranged
You can't catch me - I'm on my way
back to Bombay
Bombay - Ain't gonna leave no trace
Gonna wash away my face
In the Bombay river
I'm gonna settle
I'm gonna stay in Bombay!
I'm gonna trade my past for a new life at last
Sit back and have another blast
if I die - Kamasutra's the reason why
Kama sutra I surrender



Sueleen, tell me a secret Sueleen
You shouldn't be hidin' things away from me
Don't you know I'm king jealousy
And I can't forget the snapshots I've seen
The next time 'round, I'm gonna chain you down
I've had enough weekends of vacant double-beds
You better tell that mother, don't push the kid no further
One day, when you're swimmin' in the moonlight
With your beau in the Gulf of Mexico
I'll come ridin' in on the surf
And I think I'm gonna teach that pervert
Sue me, sue me, Sueleen on me
sue me, sue me, baby I love you like no other
Sue me, sue me, you always did it better
Sue me, sue me, don't wanna talk to no lawyer
Whatever they say, please don't bother
Don't scream d.i.v.o.r.c.e. Sueleen
I must have been momentarily insane
The night I raised my cane Sueleen
Little darlin' born to be driftin'
You're my livin' proof; but you're on the move
Don't you understand - that I had my revenge
The night I got that rocker - I knew I'd
risk the locker And pay
For your swimmin'In the moonlight
With a beau in the Gulf of Mexico
I'm here on the floor;Wondrin' who the hell
I did it for
Sue me, sue me, Sueleen on me
Baby I love you like no other
You always did it better
Sue me, sue me, Sueleen on me
Don't wanna talk to no doctor
How about gluing it back together



He split the racket, to operate on his own
He set them up, stripped them and then he was gone
He's a Robin Hood of a new century
If you're rich and dumb, you bleed
Con man's got a bloodhound nose for flaws
Profits from both sides of the law
I feel sympathy for his philosophy
If you're clever you can beat them all
Sister, tell your mister, to hold on to his change
Hustler, call him hustler, Con man rides again
Bandits, he's the bandits, settin' up a frame
Sister, tell your mister, to hold onto his brains!
Con man's mastermindin' on a brand new heist
Blueprintin' through the secret files
Your tune ain't gonna be so nice
When he gets through with you
There's just one thing left to do
Cause he'll take it away
One money hungry night
Your longs are gonna be his guidin' lights
He'll be foolin' us all if we don't watch out
Leavin' his lies, spreadin' doubts all about!
Con man's mastermindin' on a brand new heist
Somebody's in for a big surprise
Your wrongs're gonna be his rights
When a pro's at a con, he's the devil's son
Sometimes I think I'm gonna study that game
Be a Con man myself some day
Just one thing's botherin' me
I might be conning myself - by the way



Mad Love's Comin'
G.Kooymans/B.Hay
You want different positions
To keep your love-life successful
And you want a happy ending
With lots of stud potential
Reliable and perpetual
Without being distasteful, oh wee
My papa says it's not the size
Nor the way it's looking
It's the way it moves
On stiletto shoes, papa sure improves
But I bet he's just tryin' to be commercial
So let me say something simple to you
Before we get to do the do: Baby I love you
That takes care of that
You can take off your hat
You and me gotta be the lucky few
There's a tourist in the city
That went and lost his lady
On the purpose if you ask me
He'll have to find a reason
To cover-up the treason
Meanwhile let's hope the night never ends
Meanwhile let's hope the night never ends
'cos mad love's coming, I know mad love is coming
Mad love is coming, I know mad love is coming
Mad mad love is coming, I know mad love is coming
Out on the corner
City boy routine
Right on the border
Of enemy territory
This is how far you've come
This is how far you've gone
There's a fool's moon out
Makin' me shoutand it's cruel cruel
Street's a mean school
Too many blows
Below the belt, you know
This is how far you've come
This is how far you've gone
There's a fool's moon out
Makin' me shout
Mad love is comin', not too soon
On beds that sail outta the blue
Mad love is comin', all day through
Who's afraid of that romance is doomedMad love's comin', all over your walls
Into your life, it creepy crawls
This is how far you've come
This is how far you've gone
There's a fool's moon out
Makin' me shout
Mad love is



I can't blame you for givin' up
Don Coyote there's no reward in
Fightin' windmills. Fightin' windmills
It's the country that I'm livin' in
You can't stop once you begin
'Cause the braves are spread real thin
Fightin' windmills. Fightin' windmills
For a change would you be so kind
To blow another narrow mind
Instead of chasin' your tails in one direction
Don Coyote here's your epitaph
Guarranteed to raise another laugh
Anything, but giving in
Fightin' windmills, in the end
You win, you win

I can't stop - Fightin' windmills



Eatin' TV dinner, with the radio on
Made me cough up this kinda song
There's a guy singin' "I'd die for you"
And it sounds like he means business too
Here's me thinkin' all through the meal
Thank you for bein' so real and givin' me chills
You're the prettiest girl in the world
It's the best joke I ever heard
Young forever, never never grow old together
Gotta put on your blinkers, for a cakewalk in the sun
Like a mission impossible, like Atilla the Hun
Tomorrow's got me hidin' away
Yesterday's got me on the run
And my jeans keep fadin', fadin'
And my jeans keep fadin'
Don't know where these guys do come from
That say they'll kill and die for someone
It's a fluke people, that makes me puke, yeah, yeah
And I can't believe this is the truth
Here's me tryin' to make up my mind
One says "love is hard to find"
Two says that it's blind
You're the prettiest girl in the world
It's the best joke I ever heard
Young forever, never never grow old together
Gotta put on your blinkers, for a cakewalk in the sun
Like a mission impossible, like Atilla the Hun
Tomorrow's got me hidin' away
Yesterday's got me on the run
And my jeans keep fadin', fadin'
And my jeans keep fadin'
We're go out to yourself past
Get yourself a pair of new blue jeans
Into the washin' machine
Six times bleech, bleech, bleech
Mama's going crazy, see what you do
These pairs are brand new
I'll say, send it with
That's my jeans, keep fadin', fadin'
And my jeans keep fadin'



We've been friends for a long term run
Shared the goods and we shared the fun
But it's true that nobody knows
And no one can tell
Why in heaven do these moments come
Yeah, who in heaven lets these moments come
When the truth gets twisted
And somebody's ringin' hell's bell
Yeah we seen some high times
And it's too bad 1's always sad
You got 10 seconds baby & then I'm gone
Gimme one reason for stayin' home

Time's up, I hope you make a million
And have a lot of pretty children
But this is my song gotta say solong
I'm always hopin' for the best in life
I try to put it right between my lines
But somehow you been missin' the clues
And you got me feelin' used
Yeah, we seen some high times
There's more to come, where they come from
You got 10 seconds baby & then I'm gone
Gimme one reason for hangin' on

Time's up, I hope you make a million
And have a lot of pretty children
And this is my song gotta say solong
Time's up, I hope you get the picture
For your case, there ain't no cure
I'll be free and you'll be fine
Time's up, I hope you make a million
And have a lot of pretty children
But this is my song gotta say solong
Time's up
So long, bye, bye
Time's up