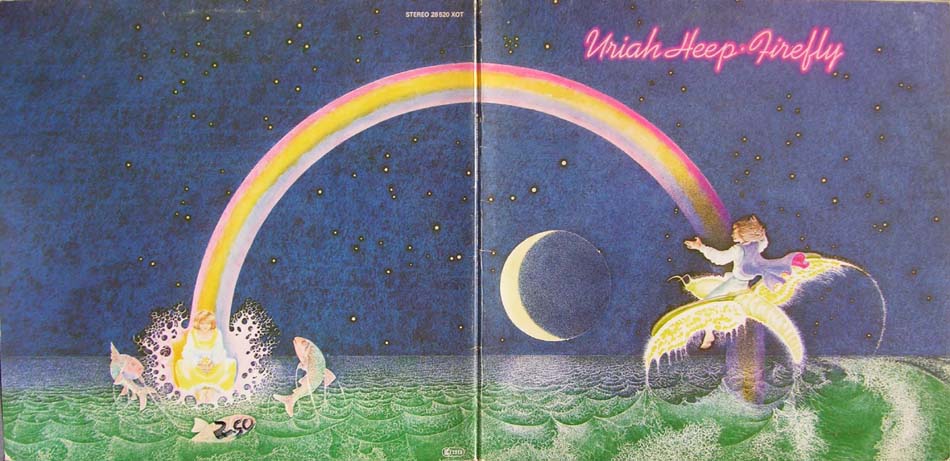 Uriah Heep - Firefly


John Lawton - Lead Vocals
Mick Box - Guitars
Trevor Bolder - Bass Guitar
Lee Kerslake - Drums, Vocals
Ken Hensley - Keyboard, Guitars, Vocals

Side 1
The Hanging Tree
Been Away Too Long *YouTube
Who Needs Me
Wise Man
Side 2
Do You Know
Rollin' On
Sympathy
Firefly



Lyrics
The Hanging Tree
Hensley/Williams
Passing through the arms of satan
Reaching for the hands of god
Robbing every mind for wisdom
Running so he won't get caught
He's outlawed by majority
Been branded all his life
Some say that he's a sinner man
As he rides from day to night
He's a bad man, so they say
Living for his love and living free
Riding swift and secretly
So he'll miss the hanging tree
Wounded spirit on the wind
Riding to his dream and destiny
He's laughing at the wanted posters
Calling for his friends to see
Laughing aloud as he rides away
Kicking up the dust with speed
Time hands him down a pathway
And freedom is a horse he rides
Glory is a dream he's after
And fortune is his heart's delight
Riding swift and secretly
So he'll miss the hanging tree
Wounded spirit on the wind
Riding to his dream and destiny



I'm coming home
I've been away far too long
I'm leaving it up to you
To understand
You may wonder why
When it was me who said
The last goodbye
But cannot change my mind
One more time
It's high time
I can't wait any longer
It's my time to find out
Who I belong to
It's breaking my heart
Waitin' for another day
When the time comes
You won't see me around
I've been patient
Standing my ground
Gotta see ya and hold ya
Hear what you have to say
Do you wake up in the morning
Wantin' me
The way I wake up wantin' you
And in the same breath
You keep hauntin' me
Does it ever occur to you
I've been in love too long
To stop now, oh
I've been away too long
I've been away too long
If you've ever cried
Then you'll know the pain
You felt inside
And just like me you pray
It's all untrue
But time alone will tell
If you have learned
Life's lessons well
And maybe then you'll know
What I should do
Been away, I've been away
I've been away too long
I've been away too long
I've been away too long
Too long, much too long
Much too long



Don't take life for granted
'cause you know that
Life won't grant you back
The feelings on the love
That you once had
You've taken me for granted
'cause you know
I'm a lover just like you
And I'll do anything
You want me to
Who needs me?
Who needs me now?
You'll find someone
How you'll find one
Who needs me?
Who needs me now?
You'll find another but no better
You can't argue with me now
I needed you and
You did not know how
Don't let go of something
That is good when
I'll tell you it's bad
Let 'em hear the story
Make 'em sad
And if the price of love
Can cost you less than
When it first began
I guess that you won't
Find a better man
I sat before the wise man
In the autumn of my youth
And I told him all
The things I had to know
He said you have the future
If you need to find the truth
And in his eyes
I saw that it was so
So I came right out
And asked him
The meaning of life
And as he smiled
I saw a twinkle in his eye
He said with all his years
There's still so much
He has to learn
And once again
I saw that it was so
Keep on living, loving
Waiting your turn
It's the only way to
Ease your concern
If you want to find
Your dream, be sure
You don't wake up too soon
Or you'll find it easier
Shooting for the moon
Wise man, wise man
Which way shall I run
There's so many roads
So many ways to turn
I am like a blind man
Lost in the sun
I wanna be like you
And be a wise man too
But I'm looking for
An easy way to learn
And be a wise man too



All you seem to do want to do
Is break my heart
Seems to me
We're a lot better off apart
Time was when you took
A pride in puttin' me down
We'll I've some news for you
That's gonna turn ya around
I got no time for no crazy lady
And the games you wanna play
'cause a love like mine's
Gonna take some time
You can't save it for a rainy day
Well, I do you know
Do you know
Do you know what
I'm trying to say
Love's not a game
It's never the same
You gotta live your love
From day to day
Lonely days are long and
Sad nights are so black
Then I get right down thinkin'
Maybe I could take you back
Till at mornin' light
A new face appears at my door
As a kinda reminder that
I ain't seein' you no more



It came as the daybreak
Must surely arrive
Opened my eyes just
To be sure I was alive
Another day
They're much the same
Twentyfour hours for me
To try again
I'm rollin' on, I'm rollin' on
I'm rollin' on, I'm rollin' on
It came as a judgement
We all have to face
Fickle hour you bring me joy
You bring me disgrace
I'll take your challenge
Man against emotion
I'll wager my beliefs
Against my sin
I'm rollin' on, I'm rollin' on
Well, I'm rollin' on
Rollin' on and on and on forever
Yes, I am
Rollin', rollin', rollin' on together
Rollin' on and on and on forever
Rollin', rollin', rollin' on
Yes, I'm rollin' on
To where I don't care
Crystal ball
You let me down again
Rollin' down a road
I've never seen
Meeting people
Seeing places I've never been
I'm rollin' on, I'm rollin' on
I'm rollin' on, I'm rollin' on
Rollin' on and on and on forever
Yes, I am
Rollin', rollin', rollin' on together
Rollin' on and on and on forever
Rollin', rollin', rollin' on together
I'm rollin' on. I'm rollin' on
I'm rollin' on, I'm rollin' on
Crystal ball
You let me down again
I'm rollin' on ... well, I'm rollin' ...



Sympathy just doesn't mean
That much to me
Compassion's not
The fashion in my mind
And if you're looking for
A shoulder to cry on
Don't turn your head my way
'cause I'd rather have
My music any day
You and I are
Masters of our destiny
We look for consolation all the time
Until we find out things are not
What they were meant to be, oh no
And if it doesn't suit our mood
We'll call it crime
Dedication's not an obligation
Or a figment of
Someone's imagination
It's the only way they say
To live from day to day
To make each passing way
A small sensation
Dreams are the possession of
The simple man
Reality the fantasy of youth
But living is a problem that
Is common to us all
With love the only
Common road to truth



My love lives at
The end of a rainbow
One day I'm gonna
Fly there on a firefly
High above white angry water
With a love song in my heart
Someday, somehow
I know I'm gonna get there
I've been patient for so long
All my daydreams
Seem so much nearer now
And I beg you hear my song
Firefly
On your glowing wings I'll ride
Till I sit beside
This dream of mine
Firefly, high on a risin' tide
Only wanna touch
The things I've seen
Steppin' lightly from star to star
Cross a wilderness of blue
Wonderin' how much
In love with me you are
'cause I'm so much in love with you
Firefly, can you take me
I ain't had no lovin' lately
Firefly bring me love
To my new horizon
The one that I've still
Got my eyes on, my my firefly
Firefly, firefly, firefly
In my dreams you come to me
The answer to my prayer
As I begin to feel
You warm my heart
I awake and you're not there
Now and then I see your eye
As the stars begin to shine
No rain to cool my passion
No! not now!
No, now you're mine!